Society
kaonavi is aiming at realization to make use of the one's individual talent in society So we are going to progress with respecting all stakeholders right from each other.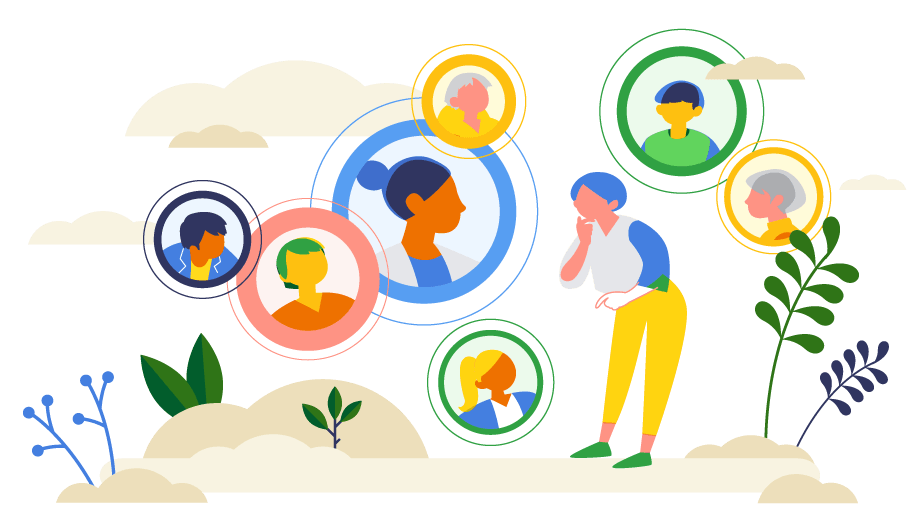 We consider our employees as one of the important stakeholders. We are building decent work environments in which each employees can perform their own individuality and their utmost talents regardless of any attributes and any stages of life.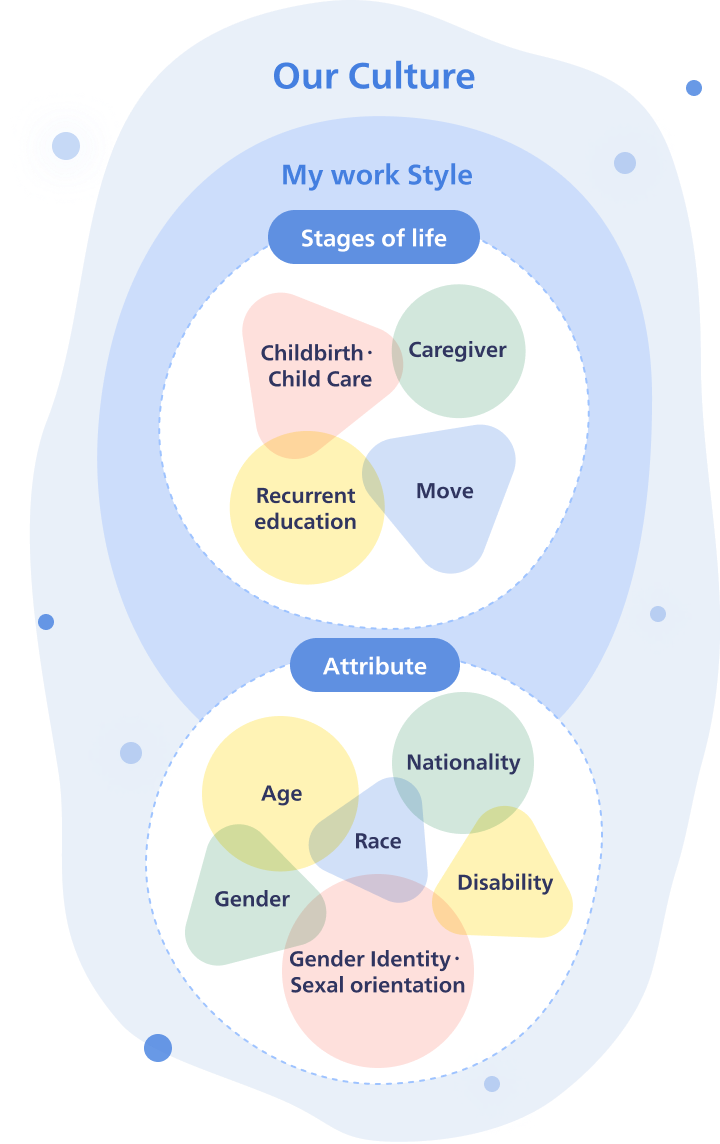 Initiatives
"Flexible work arrangement" Program
This program aims at improving both individuality and organizational productivity through employees choosing the work styles that they prefer.
Choice of workplace
Our employees can choose their preferred workplace to achieve the best performance in the best environment.
Flextime without core hours
We have abolished the core time. This program allows employees to set the beginning and the end of their work hours as well as its length. (four hours a day or more)
Flexible Work Schedule
To help employees achieve a good balance between work and life, it allows them to flexibly switch between work hours and break time.
Encouragement of side jobs
We encourage employees to take side jobs for personal improvement, enabling them to acquire a wide range of knowledge through jobs outside kaonavi.
As of March 2023, 23.0% of employees had side jobs, and most of them believe that their side jobs bring a positive impact on their main ones.
Appropriate working hours
The permeation of "Flexible work arrangement" has brought efficient business execution, and we have reached an average overtime level of 39 minutes/day.
In the meantime, we keep aware of the risk of overwork at all times. We use our attendance management system to analyze tendencies in working hours and check individually on conditions regarding sections and employees with long working hours. We strive to normalize working hours by considering responses on an individual basis and employing measures such as monthly reports to Directors.
Changing lifestyle
We strive to build comfortable working environments for all genders. We keep aiming to promote females.
We also have childcare support programs and plan to provide career support to enable females to perform their best.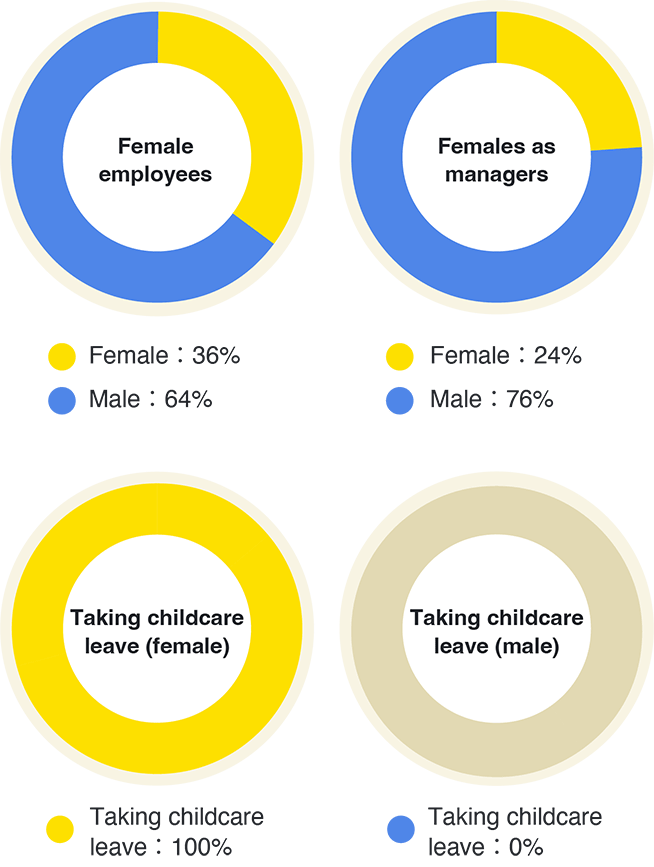 Support for balancing work and childcare
We encourage use of this program to support childcare during their work. Also we strive to overcome concerns about childcare leave and returning to work through HR interviews with expectant employees.
In addition, we have launched roundtable discussions with employees who are on childcare leave and have returned from it, as an effort to support smooth return to work by maintaining ties between employees and kaonavi.
We also support employees raising children through means such as programs for childcare leave and shortened working hours and subsidiaries to help with babysitting costs.
Males's participation in raising children
We aim not only to enable male employees to participate in raising children by taking childcare leave but also to lessen the burden of raising children on their spouses, to support their spouses' career formation as well.
Through discussion of experiences taking childcare leave and understanding of the program among employees taking childcare leave, we are working to raise awareness of the program among male employees.
Action Plan under the Act on Promotion of Women's Participation and Advancement in the Workplace
We formulated an action plan under the Act on Promotion of Women's Participation and Advancement in the Workplace in March 2022.
Diversity
Respect for diversity, Prohibition of discrimination
We strive to develop opportunities to enable diverse human resources to demonstrate their individuality and their talents, regardless of race, gender, nationality, sexual orientation, and disability. We make decisions on job titles, remuneration, and other treatment based on fair evaluation standards reflecting employees' roles, results, and abilities.
Elimination of discrimination by married status
We decided to eliminate discrimination by married status in the areas of leave and congratulation/condolence allowance beginning in April 2023 by adding same-sex partners to the provisions for spouses in Company in-house rules, in addition to married spouses.
Hiring of people with disabilities
We don't discriminate from people with disabilities in hiring and treatment after joining the Company. We decide on the scope of duties with consideration for the qualities of disabilities and apply the same standards for evaluation, raises, and promotion.
As of March 2023, 1.6% of our employees were people with disabilities.
Occupational safety, health management
We consider the health and safety of all employees to be vital topics of management to enable our diverse human resources to perform their own abilities while generating sustained growth and continued improvements in the company's competitive strengths. We strive to maintain employees' health under the workplace environments in which they can work with their individual lifestyles.
kaonavi Health Statement
We have issued the following kaonavi Health Statement.
kaonavi's corporate purpose is to "Implement technology to "WORK" and modify the specifications of society leveraging individual power".
To realize it, we consider human resources to be one of our most important management assets, and we implement a wide range of measures to improve employees' physical and mental health.
Certified Health & Productivity Management Outstanding Organization
By putting kaonavi Health Statement into practice, we have earned recognition as a Certified Health & Productivity Management Outstanding Organization by the Ministry of Economy, Trade and Industry.

Support for job seekers
We offer internships as opportunities for students to improve the quality of their own career options. We recruit interns from among university and graduate-school students for placement in organizations, such as our development and customer success sections.
Basic concept
Reflecting our purpose "Implement technology to "WORK" and modify the specifications of society leveraging individual power" we aim to build a world in which the possibilities of human beings can be understood correctly by understanding people more deeply through collection of a wide range of information instead of being based simply on visible aspects such as career history, academic background, and annual income.
The use of technology can be expected to deliver considerable benefits to society, in the meantime, it inevitably involves risks, such as those of privacy violations and discrimination. Hence we consider respect for the human rights of all stakeholders to be an important topic across all of our business activities.
Human rights are universal rights that belong to all people, regardless of factors such as race, gender, nationality, origin, creed, and political views.

Under the kaonavi Human Rights Policy, approved by our Board of Directors, the Executive Committee, whose membership consists of Directors, Executive Officers, and Division General Managers, promotes human rights through activities that include deliberation on initiatives to contribute to raising awareness of human rights, issuing instructions regarding their execution, and responding to matters reported to the internal whistleblowing hotline.
kaonavi Human Rights Policy
We respect international norms concerning human rights, including the Universal Declaration of Human Rights and the International Labour Organization (ILO)'s Declaration on Fundamental Principles and Rights at Work, and we promote efforts to respect human rights in conformity with the United Nations' Guiding Principles on Business and Human Rights.
Our purpose is to "Implement technology to "WORK" and modify the specifications of society leveraging individual power". We use technology to understand the individuality of each to build a society in which work styles are diversified.
In the future, we aim to implement activities to contribute to local communities in ways that help to realize our purpose as well.
Initiatives
Local communities are faced with issues including low birth rates and aging populations and declining commercial activities.
As a company that aims to deliver solutions to clients' challenges and broaden the possibilities for individuals by providing our service, we consider the use of technology to contribute to local communities to be an important part of realizing our corporate purpose.
Hiring in the community
When we open a new business site, we will create employment in the community through local hiring efforts.